PORTRAITS


Bronze busts and bas reliefs.




MONUMENTAL


Large sculpture for existing clients.




RECOGNITION


Working with schools and companies.
WELCOME
Having graduated from Baylor in 1973, Gilbert concentrates on sculpture with a speciality in portrait sculpture. Most of his sculpture is bronze, but he sometimes works in glass or stone. Gilbert continually searches for new materials that will allow him to create art.
Most of Gilbert's art is by commission. He has worked for banks, churches, universities, industry, monument companies and individuals. Please contact Gilbert for a quote for your art project at gilbert@gilbertbeallart.com.


Gilbert's recently completed work on the Vietnam Memorial for the Texas State Cemetery in Austin, Texas. For more pictures of the event, click the picture.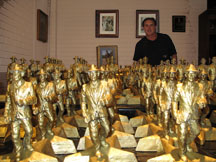 Gilbert recently completed 130 nine inch
pewter sculptures for a charity function.